PistonHeads
PistonHeads member Barry G tries out the AS One for himself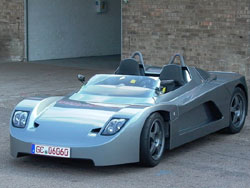 I am sure that many of you have seen the News items that Ted has posted recently about Automotive Solutions' first car, the appropriately named "One". Personally, I really like the look of this car and, as am thinking about trading in my 968 Club Sport for something a bit quicker, the AS One looks like it really could be one of the cars that fit the bill.
I spent about forty-five minutes looking at the car and talking with AS's MD Felix Feuerbach, a most knowledgeable and entertaining chap – his English is vastly better than my German. Felix told me that they were doing some tyre testing at Bruntingthorpe the following week, and he invited me up for a drive.
Greensall
After Jeremy had attached their video camera to the car, he takes it over to the track, while Felix and I follow in the hire car. First stop is the control tower where I meet my driver for the day. Nigel Greensall is a very experienced racer and is AS's test and development driver, and I believe will be running the UK end of the operation, once production is in full swing.
We got suited and helmeted up and Nigel took the driver's seat to show me round the track at a "medium" pace. Blimey! If that was medium, I can't wait for large! This car is quick! It's my first visit to Bruntingthorpe and I use the laps to see where Nigel is braking, turning and clipping. Fortunately, we have an intercom so he can tell me more about what he's doing and about the car itself.
The thing that interests me most is the paddle gear shift for the motorbike sequential gearbox. When it's fully developed it will allow full-throttle upshifts without using the clutch. Nigel says that it's very easy to use, and should come naturally fairly quickly.
In Bits
I'm not sure, as we return to the pits. The last thing I want to do is change down rather than up at 9000rpm and end up leaving bits of gearbox strewn all over the runway! Still, we swap seats, and adrenalin takes over from apprehension. Left paddle to select first, little bit of revs, and we're away. Actually, it was quite a lot of revs the first couple of times, as the throttle is very sensitive, but when you're used to a lazy old V8, a bike engine revs so so quickly.
Once on the move the car responds immediately to all inputs; I've never felt so much part of a car before. Out on to the circuit, dip the clutch, pull the right hand paddle – before you can blink second has been engaged. I give it a bit more right foot and the thing takes off like it's been kicked up the backside. Through the corners it grips extremely well; the handling is fairly neutral, similar in some respects to my 968.
Through the bottom corner, brake over the white line into the Esses and down into third. The pace you can maintain through the corners is astonishing and I'm very glad of the 4-point harness. Short change up into fourth (well, short change for a bike engine, around 7000rpm), then floor it as you go through the medium right onto the runway. Nine thousand revs comes all too quickly in sixth, which equates to about 130mph; at that speed the wind is trying to rip your helmet off – next time I must do it up a bit tighter.
Arrested!
Brake at 200m to go, and the car feels as though it's hit a brick wall. You could probably leave it at lot later, but this isn't my car and there are a lot of solid looking Fiestas parked at the end of the runway. Roll it gently into the penultimate corner, down into third, hugging the white line on the outside. Watch out for the surface change coming onto the pit straight, I was told, but even that doesn't upset the AS One.
Repeat, until grinning inanely!
After a couple of sessions with me at the wheel Nigel takes over the helm and shows me how it should be done. It was probably a good thing that the intercom mike fell out of my helmet; I'm sure that I used some choice swear words during the next couple of laps, although the most descriptive (and cleanest) was "awesome!"
Pick a 'box
Felix later tells me that this car has a gearbox more suited to the Sachsenring, a much tighter circuit. The production car's gearbox is likely to be geared so that 9000rpm in sixth will equate to 155mph, although each customer can specify what type of box they want. And that's not the only customisable part; each new owner will get a day at Bruntingthorpe with Nigel to help them set up the suspension to suit their own driving style.
So, did I like it? Yes, I think that's obvious. Will I be buying one? Quite possibly 50,000 Euros is a lot of money, but I personally think the AS One is worth it. Yes, for the same price, you could get a fully specced up Radical Tracksport, which would be considerably quicker, but I don't think that you'd want to drive it to and from the track. The AS One will still be one of the quickest cars at any trackday. Yes, I think I've convinced myself: I want one.