Motorsport Vision
Britcar Victory, Snetterton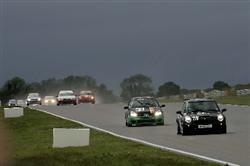 Nigel Greensall and Jonathan Coleman raced the RSR Norma prototype at Valle de Vienne, in France, on Saturday afternoon. They won. Nigel drove through France during the night, and, having landed on British soil at 06.30 Sunday morning, he made his way to Snetterton.
He completed the mandatory familiarisation laps in Sunday morning's Britcar free practice session, then, during the afternoon, drove for the best part of the whole five hour race, achieving an overall win, and a class win, in two different cars.
Nigel's services had been enlisted to share Ian Dockerill's Porsche, and the Beechdean Supermini alongside Aaron Scott. Andy Allen also had Simon Phillips joining him. Visit website.
Grid positions for the weekend's main event were determined by the finishing order of Saturday's 90-minute "sprint". A few, however, had dropped out, depleting the field, but Peter Seldons BMW M3 E36, which he would share with son Matt and coach Eugene O'Brien was a welcome addition.
Peter's M3 GTR is still not to his liking, so the old E36 pulled out of mothballs. "I've given the GTR to (BTCC team) Arena Motorsport to finish off" he said, "I want to make sure its right."
The Dishman/Ridge Porsche, the Cole brothers' Ferrari, Fenton and Gardiner's BMW, Laslett's Elise, and Warren Gilbert's TVR , had all intended to do the Saturday race only, and Schirmer Motorsport had their decision made for them by Richard Meins' early expiry the previous day. Jeff Wyatt, now without a drive, had obviously negotiated a money-back guarantee, and took his stationers wedge to Geoff Steel, for he was now down to re-acquaint himself with the white BMW, partnering David Back.
"Yesterday didn't happen" was Warren Gilbert's wake-up call to the Topcats team. "That was the worst day, ever, for this team, and today is a fresh start". On top of problems in the Britcar race for both Marcoses, the day ended with a massive, race-stopping shunt for Kelly-Anne Mercer in the Production S1 race, the Topcats-run MG-ZR sustaining considerable damage, and Kelly being removed from the car in a controlled operation. Thankfully, she was uninjured.
The team were bolstered by some additional drivers for the longer race, Dom Lesniewski and Richard Gomes joining Jon Harrison in the blue car, and Luc Paillard assisting Mercer and Fores in the silver machine.
Adam Sharpe had also hot-footed from Le Mans to drive the Falcon, and Nigel Rata was joining Kevin Hancock and Leigh Smart in their Marcos.
A much brighter, fresher day, and it was Greensall into an immediate lead as the lights went green, with Binnie's Falcon threatening, then dropping back, as Leslie's BMW and Allen's Porsche took second and third. Binnie fell into the clutches of Lockie, the nimble Ferrari dancing around the big Ford in the corners, but the orange brute outdragging it on the straights. Topcats were emphasising their "fresh start" philosophy, Lesniewski and Mercer carving through the field in tandem.
An early safety car period, to recover Michael Symons BMW, stopped with diff trouble, bunched the field up, and once the field went green again, a fraught, lap-long three-way tussle between Allen, Lockie, and Lesniewski, was resolved in Lesniewski's favour, but left Lockie's Ferrari with a large piece of its rear bumper projecting rearward.
Reports from marshals post of fire from the back of the car caused the officials to act, and show Calum the black and orange flag. He was stopped at the pit entrance, the scrutineers establishing that there was no fire, and it was safe to proceed down the pit lane. An angry Lockie stopped for a cursory inspection, and was off in pursuit of the of the pack, a lap down.
Differential problems were also plaguing Don Grice's Butler MotorsportBMW, which meant that both his car, and Symon's similar Geoff Steel machine, were having in-race rebuilds.
Aaron Scott had some competition in Class 3 today, for the venerable droop-snoot Porsche of Jon Clonis, now in the hands of David Streather, was making things awkward for him, the dryer conditions and the fast nature of the track suiting the old car better than Saturday's race, where it had been a handful. Scott, however, called a temporary halt to the proceedings, pitting with a dead engine. A blown fuse was diagnosed, and the Mini was quickly on its way.
Bill Cameron was an early stopper, handing over to Barry Horne, who proceeded to punch in a succession of fastest laps. Observed from the Russell Chicane, he was visibly quicker than anybody else, turning in late, sharp, and aggressively, almost sliding, and using every millimetre of the saw-tooth kerbing on the exit. Ragged-arse limit-seeking, or inspired genius? The jury was out on that one, but it was obviously effective, and certainly entertaining.
A rash of pit stops as the first hour ticked over saw Lockie elevated to third, on terms once more with Andy Allens Porsche, straightlining the chicane in attempt to pass. Greensall had a quick spin at Russell, but, more importantly, Handkammer, having only recently relieved Leslie, crawled into the pits, stuck in second gear. Undaunted, the GTS team got down to fixing it.
With 100 minutes elapsed, Randall's Elise had stopped out on the circuit, and Greensall capitalised on the ensuing safety car period, handing the Porsche over to Dockerill. There's no rest for the wicked, though, for as Nigel was chilling with a bottle of water and a towel on his head, he was getting the hurry-up from Beachdean's Andrew Howard.
Dockerill had retained the considerable lead that his more experienced team mate had built, but Adam Sharpe was now in the Falcon, and, being 4 seconds a lap quicker, was soon past the Porsche. Dockerill had further problems when a stop-go penalty was awarded for a fuelling infringement, but was still in second place as the two-hour mark was reached, a lap ahead of the Mercer/Fores/Paillard Marcos. Sadly, the blue Topcats Marcos had already expired, Lesniewski's impressive run being thwarted by a gearbox failure.
Talking of gearbox failure, the GTS team had now repaired theirs, and, 45 laps down, Handkammer rejoined, but only for a few laps. Their day was done.
Two and a half hours gone, half distance, and the Mini, Greensall now at the wheel, had resumed battle with the old Porsche for Class 3 honours, Mike Jenvey now in charge. Bonner, in the Falcon, led overall, with Palliard's Marcos a surprise second. Dockerill was third, and the Lockie/McCormick Ferrari two laps adrift in fourth. Cameron/Horne, and Allen/Phillips were next, then the steadily driven BMW of Peter and Matt Seldon, which had crept up to 7th.
Binnie, having taken back the Falcon from Bonner, had an oil light blinking, and dropped to third whilst levels were topped-up. Both Dockerill and Horne had the first of several punctures, blaming debris, and with three hours elapsed, it was Dockerill back in the lead, with Paillard's Marcos, and the Falcon, on the same lap. Allen, Horne, and Lockie were two laps down, and the Seldon BMW, now with Eugene O'Brien driving for the duration, had slipped behind Greensalls Mini. The Falcon had by now been pushed into the garage, gearbox problems halting its progress.
The final hour, but in endurance racing, anything can happen, and there is no cruise to the flag while the teams pack away. Mercer had relieved Fores, and retained the lead, but Greensall was now back in Dockerills Porsche, and chipping away at the gap, assisted by a brief shower. With just twenty minutes to go, and the rain now easing, Greensall had a 30-second deficit to make up, and was eight seconds a lap quicker, but it became academic as Mercer crawled into the pit lane, unable even to make it to the Topcats garage, a CV joint failed.
So now Greensall had a comfortable lead, lapping Lockie, in second, with five minutes to go. The "last lap" board was shown, but Greensall slowed as he entered Russell for what everyone assumed would be the last time, chugging into the pit lane, driving through, and continuing onto another racing lap.
Having eventually taken the flag, he explained; "My knee hit the pit-limiter button, and the engine cut, so I drove into the pits in case there was a problem."
Calum Lockie was delighted and relieved to finish second; "Hargreaves gave us a fantastic car that ran faultlessly all distance, but it was metal-to-metal on the front brakes towards the end."
The Production S1 championship race was won by the Mazda duo of Ticehurst and Formula Woman Champion Natasha Firman.